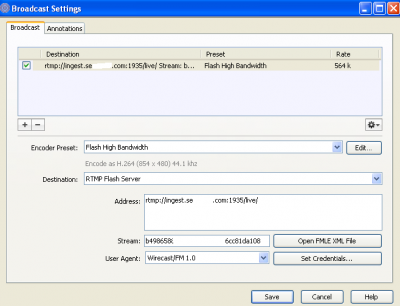 Setup Information
Mon, 01/24/2022 - 15:06
Kory.Hartman

The following live video encoder apps have been tested by the SevereStudios Team. Choose one below. You may have to test more than one to find one that works well with your hardware.


Note: Any RTMP Encoder that can push H.264 video with AAC Audio will work with our system.


Streamers with paid accounts who need setup help can Contact Us for assistance.




Encoder Options for Streaming From Windows Laptop/Desktop

Open Broadcaster Software (OBS) "Studio" (free) **recommended
[Home Page] - [OBS Studio Download] - [DOWNLOAD INSTRUCTIONS] (PDF)

XSplit Broadcaster (Subscription starting at $15/mo)
[Home Page] - [XSplit Download] - [Support Articles] - [DOWNLOAD INSTRUCTIONS] (PDF)

Wirecast Studio ($599)
[Home Page]


Encoder Options for Streaming From Mac Laptop/Desktop
Open Broadcaster Software (OBS) (free) - [DOWNLOAD INSTRUCTIONS] (PDF)
Wirecast Studio for Mac ($599)


Encoder Options for Streaming From Apple iPhone/iPad
Larix Broadcaster (Free) - [iTunes] - [DOWNLOAD INSTRUCTIONS]
OS Broadcaster (free) *not recommended - causes issues for mobile viewers
Wirecast Go [Custom RTMP Destination] ($5.99)
Switcher Studio Basic


Encoder Options for Streaming From Android Phone/Tablet
Larix Broadcaster (Free) - [DOWNLOAD INSTRUCTIONS]